Spanish Flows Like Air
Jheny is a social work student at Goshen College. She works two days a week as an intern here at Maple City Health Care Clinic. Jheny reflects on her internship in a log. The following is an excerpt from her log: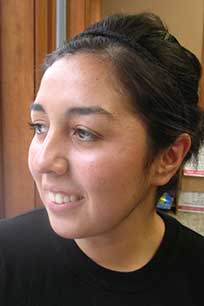 "In regards to the office staff being bilingual, I noticed how comforting it is to see Latinas as staff members. It is not only bilingual Anglo Americans who are working here, but actual Latinas, who represent many different cultures, still hold on to their beautiful accents, and are not afraid to speak to each other, and the non-latino/a members, in their native language. This is a clear result of the clinic's commitment to the principle of employment to all qualified individuals regardless of differences. Spanish flows like air within the walls of the clinic, to and from patients, and among the staff. It has been tremendously refreshing, for once since my arrival to the United States, to feel that my first language is respected, welcomed, and encouraged to live on."